Keep what pure, K-Swiss?
So I bought Lucky magazine Thursday because I was jonesing for something to read outside of information about Constitutional Criminal Procedure.  Aside from being annoyed that besides a one-page write-up about the Persian furniture technique Suzani influencing fashion designs (and Oscar de la Renta has a kickassed zippered cropped jacket with awesome patterning), every other mention of clothing with varied patterns and intricate beading is characterized as "ethnic" or "ethnic-inspired," I caught one of the latest advertisements from the K-Swiss campaign.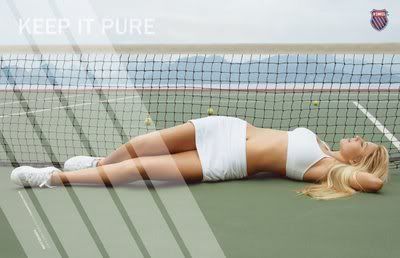 click to enlarge
My instant reaction was, "Wow.  How… Aryan…"  Besides the fact that this picture of Alona Bondarenko will likely be added to the spank banks of "pure"-thinking males everywhere, the presence of the K-Swiss bars only blocking her legs and lower half sends a different message of what "it" is we're keeping pure about this beautiful blond-haired white tennis player.  The tennis court with the mountainous background, as if we're protecting the resting player from the outside world.  Seeing this in print just clubbed me over the head, like "Whaaaa…?!?"  
A few of the other advertisements from the same print campaign are coupled with action shots, like this pretty innocuous one of Tommy Haas.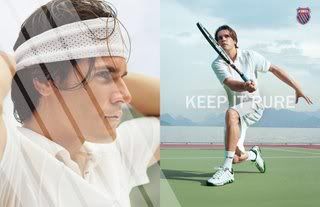 click to enlarge
When I looked at this one, I thought, "Eh, maybe it's not so bad.  Slogan's placed in the middle of the second half; there's a better perception that this is an advertisement for athletic gear with the action shot.  Maybe I'm overreacting."   But then I saw the second Alona Bondarenko advertisement with the same layout and it adds a whole new dimension of interpretation.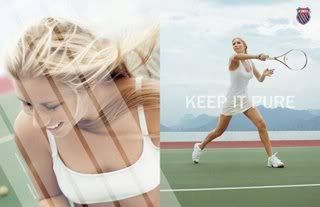 click to enlarge
Same concept; same execution as for Tommy Haas.  But once again, a whole different message.  This time, the bars are blocking Bondarenko from the waist up, and the slogan… Well, it's in the same place as it was in Haas's ad; but he wasn't wearing a tennis dress at the time.  "KEEP IT PURE" is blazed right across her crotch.  Haas isn't wearing the exact same thing because his headband's gone in the second half; the bars in his first half only partially obscure his face.  But Bondarenko's in the bra top from the initial advertisement, with bars plastered over her entire upper half.  
Plus, with Haas, you can recognize him fairly easily in both shots feature-wise.  With Bondarenko, her face is averted in the first shot, and in the second, she's slightly out of focus.  Plus, her action shot looks more like she's trying to fend something away with her backhand.  Haas's action shot, on the other hand, is a more aggressive, crouching save.  
(Yeah, tennis fans and players can probably tell I don't know shit about tennis; if you do, tell me what these shots are!  :-p
From Kai, Resident Problem Chylde Sports Expert: "The dude is doing a forehand volley; the action shot of the lady is a follow through after a top spin forehand."  So that's what I meant.  Yeah… *cough*)  
So I decided to look for more advertisements (because I'm a masochist that way) and I found this jewel of WTF? featuring Anna Kournikova: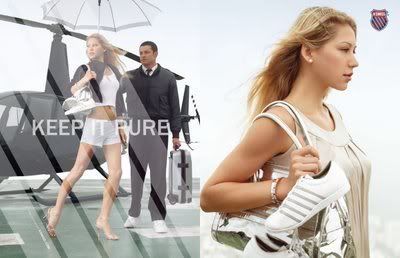 click to enlarge
Here, we see a darker male (POC?) standing next to her, holding an umbrella a parasol over her head as she walks.  The bars are clearly over Anna Kournikova's entire body this time.  The man, rather significantly, remains uncovered and focused on holding her umbrella parasol and luggage.  (Focused on his job wearing mostly black formal wear; staring at blonde-haired Anna Kournikova clad mostly in white tennis wear — same difference, I'm sure.)  Kournikova's head is completely turned away from him and her body is moving forward as he remains somewhat stationary.  She has the tennis shoes draped over her shoulder; he appears to be wearing them.  "KEEP IT PURE" once again finds itself screened across another blonde woman's crotch.  The strange positioning of the two people makes it difficult to see that he's the one holding the frilly pointless parasol above her head and it's not just springing out of her skull a la Athena's birth from Zeus.  Plus, the second half of the shot shows her with undeniably more covering, and for some reason she's no longer wearing white.  She's holding it via the K-Swiss tennis shoes.  Focused on where she's going like a pure, oblivious trendsetter and holding her white talisman.
You can see more of Kournikova's shot by watching one of the television commercials, where you see a group of different athletes, male and female, "in action."
In this commercial, you see Chris Lieto and Sébastien Foucan in their respective sports (Lieto is a triathlete; Foucan is free running — the sport he helped to found).  Both men are either shown with full body shots or from the waist up, in action.  The first thing we see of Alona Bondarenko are her legs and her feet in K-Swiss shoes.  You wouldn't know they're K-Swiss unless you're familiar with the brand; so let's just say her legs in shoes.  Anna Tunnicliffe doesn't even get a decent shot of her face because she's busy manning her sailboat.  Ah, and then we see Kournikova, moving away from her airplane, darker man in tow behind her that's… leering creepily at her…  You can see him more clearly holding the parasol, too. After that point, Foucan's in mid-air looking rather stellar; then we move to Haas playing tennis with a couple solid action shots and a focus shot on the fact that he's wearing K-Swiss socks, concentrated on the ankles.  And then, through the rather restrictive black tennis net, we see… someone.  A woman, yes (possibly Bondarenko).  Her figure clothed in white and completely out of focus.  And emblazoned upon the black netting, we get our slogan "KEEP IT PURE."  
Keep WHAT pure, K-Swiss?  The campaign seems charged with racist and sexist imagery to me.  Am I alone in this?
So finally I get fed up, and I go to the website to see if I can find out more about the campaign. I learned more about the athletes spotlighting, and then I watched the flash rotation of the two features.  Bondarenko's ad where she's sprawled out on the ground is first, the bars more clearly covering her from the waist down.  She's on the ground of the court, eyes closed and at rest, net behind her… pretty identical.  (In the print version, the bar isn't as obviously on her crotch as it is online.)  The second?  Foucan in mid-air.  High above the ground, with bars completely blocking his Afro-European body.  Appearing to reach out, and he has to land somewhere.  Rotation back to Bondarenko, on the ground, eyes closed, "KEEP IT PURE" over the bars.  Then back to Foucan, mid-air, "KEEP IT PURE" not quite on the bars but hovering near his outstretched hand…  
The other half of his spotlight is his (very hot) face.  
Almost like a wanted sign.